Season 14 of MasterChef Australia saw masterful integrations that seamlessly promoted the irresistible flavours and diverse product range of L'OR Espresso with multiple touch points throughout the series.
Product Placement
No kitchen is complete without the right appliances and ingredients so the exclusive supply and premium placement of L'OR Espresso barista machines and coffee in the iconic MasterChef kitchen and pantry, set the tone for this partnership that was complemented by bonus branding in top-of-room displays as well as the off-site pantry.
Content Integrations
Audiences cheered on contestants as they concocted coffee-infused recipes showcasing the delectable flavours of L'OR Espresso that triggered sales as inspired viewers looked to replicate these taste sensations at home. The integrated challenge saw contestants cook either sweet or savoury dishes that featured coffee, an ideal challenge to ensure the L'OR brand connected with viewers. In a further challenge, L'OR branded espresso was served to diners alongside their French-inspired three course menu showcasing how MasterChef quality meals pair perfectly with L'OR Espresso.  

Powerful Assets
This strong advertising partnership saw a variety of powerful assets leveraged throughout the series including: 
bespoke play outs using in show vision to highlight key integrated moments

 

brand billboards placed with high frequency to ensure brand message cut through

 

program IDs that reinforced brand recognition

 

sponsor logos on episode promos for the series consistently linking the brand to the show

 

logo and brand acknowledgement in the series end credits solidifying brand connection

 

strategic TVC placements with enhanced by first and/or last position in break.

 

Digital Partnership
L'OR Espresso took the campaign to the next level with a digital partnership, allowing them to harness the benefits of premium assets and data targeting across: 
Premium Pause on connected TV catch up

 

Social Posts amplifying in-program integration

 

Solus EDM marketing a L'OR Espresso special offer

 

Display sponsorship of MasterChef Recipes on 10 Play.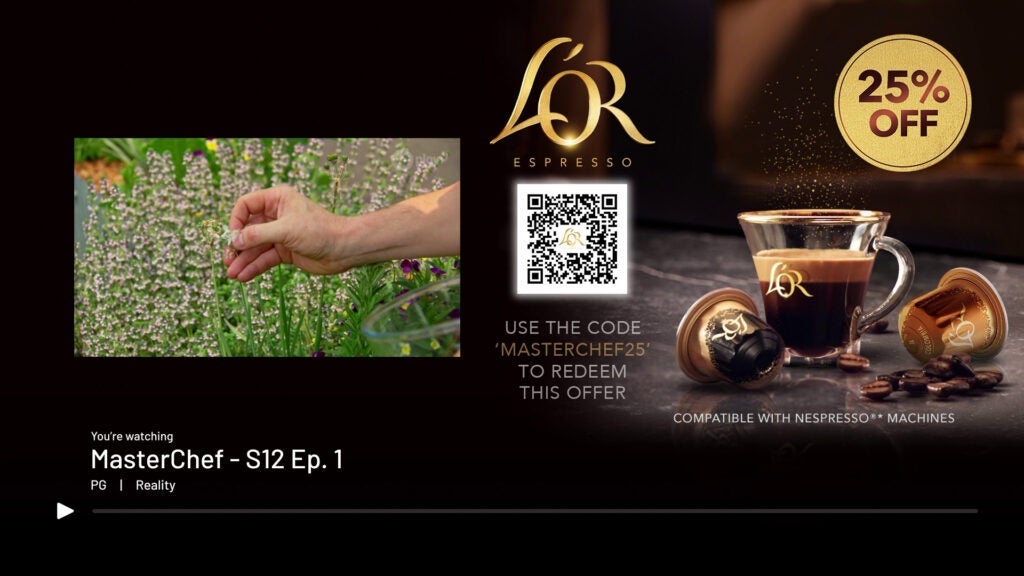 Off-Screen
L'OR Espresso built on the momentum of the sponsorship by using MasterChef IP across their consumer communications channels including broadcast, digital, direct communications and social touchpoints. 
Audience Engagement
This holistic and integrated campaign spilled the beans delivering outstanding results with MasterChef viewers' engagement with L'OR Espresso well above the industry standard research benchmark and an astounding five times greater than non-viewers. 
Talk to us today
Winter will see up rug up and hunker down to watch Season 15 of MasterChef Australia  our fan favourite show that connects with audiences through the screens, to their stomachs and into their shopping baskets. 
So, wake up and smell the coffee and talk with us today about the powerful opportunities you can brew when you integrate your brand with our premium content and seamlessly connect with our engaged viewers.