Paramount ANZ Brand Studio delivered a powerful trifecta of sponsor integrations in the standout season of Australian Survivor: Heroes V Villains, that secured 1.1 million total national viewers for the announcement of the winner and had the nation talking consistently trending #1 on Twitter.
Paramount ANZ Brand Studio, working with production company EndemolShine Australia, were able to bring Set for Life, KFC and Isuzu UTE to life on screen in Survivor. There brands were integrated content highlights generating authentic and engaging moments of excitement and joy with our survivors in Samoa. Here's to our integrated heroes of Australian Survivor: Heroes V Villains.
Set for Life
Set for Life were the first integration in the series and a hidden reward in the Survivor auction with a brand-themed off-site Survivor surprise party. Self-proclaimed King George Mladenov was the auction winner and he decided to take his Spice Girls alliance with him to the party, Shonee Bowtell and Liz Parnov.
The three enjoyed a gourmet feast in a stunning location with a themed table setting adorned with Set for Life brand colours and a focal point of a branded chest that George opened the to reveal the Set for Life logo and his prize.
"…Congratulations. You've won $5,000 on replay for 12 months thanks to Set for Life. …! I just won $60,000! Oh my god! This is going to change my family's life."
Consistent verbal references, spontaneous, genuine and positive sentiment from George, backed in with TVCs, lead-in and out spots, saw Set for Life become one of the heroes of Australian Survivor.
Izzy Kortlang, Brand Manager, The Lott said: "Set for Life is very excited to have partnered again with Australian Survivor. It is such a meaningful and relevant integration for the Set for Life brand, and an alignment with a key program we know our audience chooses to watch. Across the 2022 and now the 2023 season, Paramount have able to identify positive moments within the program of when the contestants camp experiences were 'enhanced' and then use this as a clever link to how Set for Life enhances life as well. We're all about 'celebrating the winning moments on replay' at Set for Life, and it has been really rewarding to seamlessly integrate our brand within the program. It's been another great season and successful partnership with Paramount."

KFC
We're proud to have KFC as a long-term partner of Survivor and each year we bring a new and fresh approach to the collaboration and think this year's integration is our best yet. In a feast for audiences and survivors, the KFC 'Get a Grip' challenge saw heroes and villains paired up and up a pole, having to stay aloft for longer than their opponents.
The motivation was next level with hungry villain George delivering authentic 'you can't write that' moments saying: "I don't want immunity, I want KFC…This is truly my dream reward…Want to see George win a challenge? Put KFC on the line." And he wasn't alone with hero Matt offering some hilarious motivation to his partner Liz with: "Pain is temporary, KFC is forever."
George and Hayley Leake won the reward taking along Shonee and Gerry Geltch to enjoy the stunning waterfront KFC feast. The package was backed up strong play-in and out spots, clear logo features at the reward, reinforced brand colours throughout all touch points as well as positive brand references and experiences from the feasting survivors. And there were invaluable, seamless bonus verbal mentions from the one and only George to complete another nail biting episode.

Isuzu UTE
Isuzu UTE is a much-loved and long-term sponsor of Australian Survivor and once again this season showed why this partnership is a perfect match. Rising to the challenge of not having a vehicle in Samoa, Paramount ANZ Brand Studio focused on designing a challenge and reward that created the right environment and experience to profile the brand and evoke positive and genuine reactions aligned to Isuzu values.
The classic challenge 'The Game is A Foot' saw survivors use only their feet to stack blocks of different sizes in a three-tiered tower and then a flag in the centre­, the ultimate stability and strength challenge reflecting the attributes associated to Isuzu vehicles. When apprentice carpenter, Simon Mee, won the challenge, he fell to his knees and wept tears of joy giving a heartfelt thanks to Isuzu as the D-MAX was going to change his life. Simon was elated saying: "It doesn't get much better than this."
The holistic integration featured a compelling visual package voiced by magnetic host Jonathan LaPaglia, extensive branding in the winner's gourmet picnic plus seamless bonus verbals from contestants as well as in program bumpers, billboards and playouts. Plus Isuzu backed the campaign in with an incredible audience competition on 10 Play where viewers could win a brand-new, top of the range, Isuzu D-MAX X-TERRAIN 4×4 or MU-X LS-T 4×4.

Mike Conybeare, Executive General Manager – Marketing & IT at Isuzu UTE Australia said: "Isuzu UTE has been a proud sponsor of Australian Survivor for the past three seasons.  With its highly engaged fan base, the partnership helps drive awareness for the Isuzu D-MAX and MU-X vehicles.  This year's partnership was unique, as the series was filmed in Samoa we weren't able to deliver a vehicle on ground for the in program integration so we challenged the team at Paramount Brand Studio and EndemolShine Australia to bring the integration to life in a fresh way and we were very pleased with the results of the integration and the overall partnership."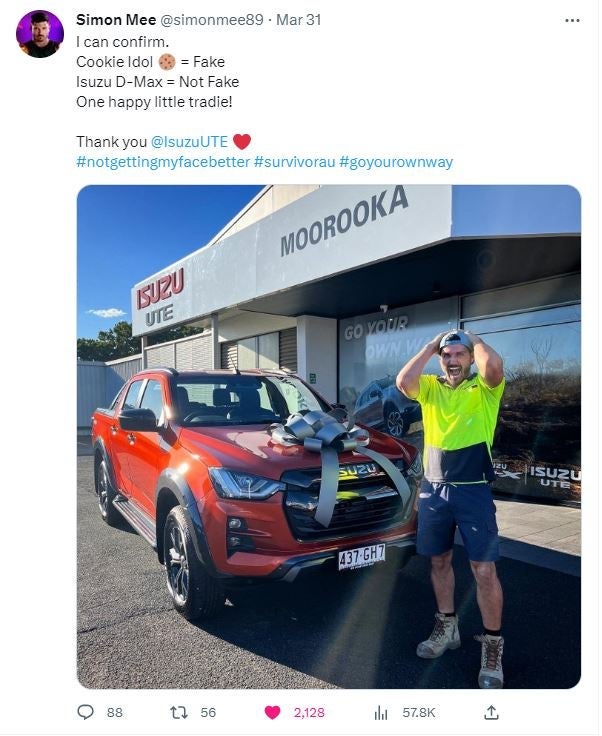 Simon went onto collect his Isuzu D-MAX creating a long trailing effect for the sponsorship after the series ended with this popular tweet doubling down on positive brand reinforcement to fans of Survivor.
Masters of integration
Paramount ANZ Brand Studio are industry leaders in creative and impactful sponsor integrations. We have a diverse and strong content slate this year on 10 and 10 Play with a variety of engaging and fresh integration opportunities available. Talk to us today and see how our creativity and expertise can deliver results for your brand.