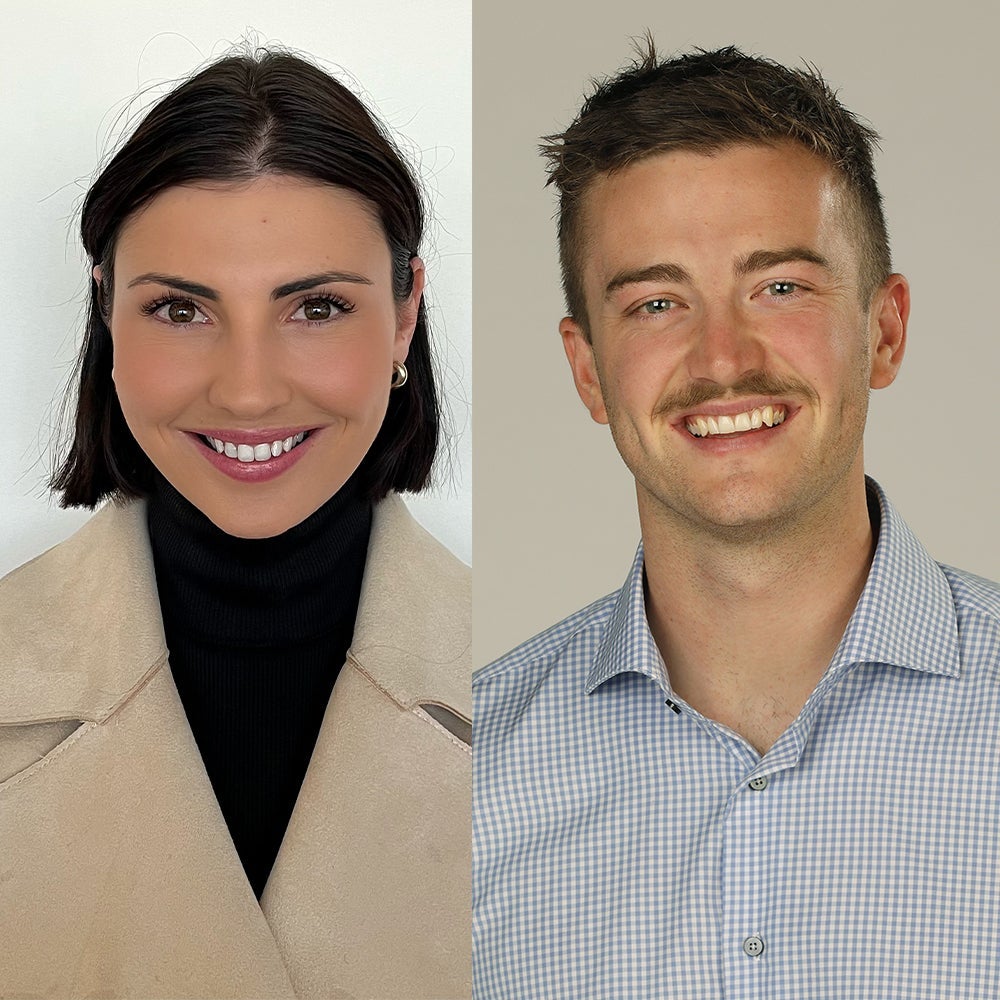 Georgia Jennings and Josh Hale can't wipe the smiles off their faces after winning last month's Sales award for best embodying Paramount's values – optimism and determination, inclusivity and collaboration, and agility and adaptability.
While Georgia is based in Sydney, Josh is based in Melbourne, they both seem to have an uncanny appreciation for Carlton beer ads… 
What do you love about your job?
Georgia: I love my job because of the people, both internally and externally. I love seeing my colleagues and collaborating together to get to a resolution for my clients. No two days are the same. I love the challenges that are thrown at me and how my team and I can work collaboratively to get the best outcome. I really enjoy the fun culture we have created here since returning to the office from lockdown.
Josh: What I love most about this job is the people I get to work with. We are an extremely close and supportive team in Melbourne, making it enjoyable to come to work every day. The culture we have built is amazing and unlike any other job I've had.
If you could be part of one show on any Paramount network (Network 10, 10 Play, Paramount+, MTV, Nickelodeon), what would it be and why?
Georgia: I would love to be on The Amazing Race. I like the idea of being challenged and immersed into different countries and cultures. Before I worked at Paramount, I was a tour guide in the Balkans and spent a lot of time organising and managing travel and large groups, so, I could handle the pressure and fast paced environment of the show.
Josh: Easy, Dessert Masters as a judge… because you get to eat all the desserts.
Where would we find you on the weekends?
Georgia: On the weekends you can find me at the beach or spending time with friends and family. I like to go to comedy and music events across Sydney and going out to new restaurants to try new cuisines. I also enjoy going for walks and listening to podcasts. My favourite podcast is currently My Therapist Ghosted Me. Very funny Irish girls that always makes me giggle.
Josh: Most likely at the MCG watching Richmond Tigers!
Share the best piece of advice anyone has ever given you.
Georgia: Say yes to every opportunity that is given to you, ask questions and connect with everyone you can.
Josh: Get comfortable, being uncomfortable. The only way to grow is to put yourself in uncomfortable situations.
What is the one advertisement that has stuck with you – it can be from any time.
Georgia: An ad that is memorable to me is the "It's a Big Ad" – Carlton Draught.
Josh: The Carlton Mid Strength Coincidence Ad, where all the best mates run into each other on a holiday. It stays with me because it's hilarious…