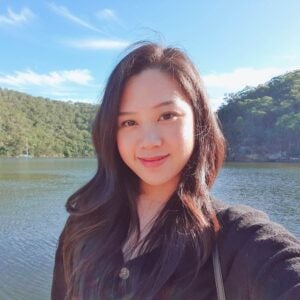 Swans. Beautiful, majestic and graceful on the surface, working their feathered bums off under the water. Well friends, meet Paramount's ultimate swan, Vivian Tang.
Viv is our Design Production Manager who looks after the gazillion design requests that come through on a daily basis. We sat down with Viv over a decaf soy latte as she politely declined our request to photoshop our profile pics with Ryan Gosling. Here's what she had to say.
What do you love about your job?
Turning on the TV to 10 and knowing that I'm part of the team that makes it all happen!
My nephews love PAW Patrol and TMNT, so working here also earns me brownie points. They don't quite understand my role and think I animate the show, but who am I to ruin their fantasy?
If you could be part of one show on any Paramount network (Network 10, 10 Play, Paramount+, MTV, Nickelodeon), what would it be and why?
Definitely The Dog House Australia, but I would take all of them home and there wouldn't be a show anymore. A close second would be in the audience of Judge Judy.
Where would we find you on the weekends?
Sleeping in!
Do you have a unique hobby or hidden talent?
I'm a black belt in Taekwondo, so send in your design briefs early or else…
Do you have a mentor, or someone who inspires your career?
Miranda Priestly a.k.a. Meryl Streep from The Devil Wears Prada.
When I was a teenager, I always thought my life would be like this movie. I thought I'd be an aspiring journalist, just like Andrea Sachs (Anne Hathaway), and work my way up to become Miranda. Miranda is the stoic, highly revered and terribly feared editor-in-chief of the top fashion magazine and Andrea is her new assistant.
I envisioned getting coffee and lunch for my boss, taking notes all day, attending exciting events and GRINDING.
Turns out, that's exactly how it went when I started interning at 10! Except, I peek at the real journalists from a safe distance and my bosses are MUCH friendlier than Miranda.
So, that's what I aspire to be. A friendly Miranda Priestly.
What energises you when you're at work?
My team members are my energy pills. Nothing makes me work harder than seeing my team putting in 110% every day.
I'm constantly inspired by the amount of talent and kindness that's around me. Everyone's always willing to lend a hand or even a shoulder to cry on if you need.
If it's an especially tough day, a cup of tea and a snack usually picks me up too.
Are there any misconceptions people outside of your field have about your job?
I think people often assume that the creative field isn't difficult or important. I'm not going to lie; I don't think a piece of art has ever successfully saved a person's life (as far as I know)… BUT! Creativity is what gives life colour.
When a doctor comes home from a long day, they destress by kicking up their feet, switching on the TV and immersing themselves in a reality that we get to create!
Share the best piece of advice anyone has ever given you.
"Never pass up a chance to pee."